Modern trends have made a major impact on how couples are buying both their engagement and wedding rings. With most wanting to do more than what the traditional proposal and ring style entails, we have a few insights into how things are changing, and how you ca get on board when it comes time to find your perfect wedding rings.
Shopping Together
Going shopping for the engagement ring together prior to the proposal is another trend that many couples are opting for. This gives your partner a say in the ring that will adorn their finger for many years to come, but still has the element of surprise when it comes to the how and when of the proposal itself happens.(Click here for some unique and trendy proposal ideas).
This less traditional engagement trend can actually help relieve some stress, by ensuring the ring is sized correctly, and most importantly, one that the bride likes both comfort wise and stylistically. Many times, grooms feel lost and completely overwhelmed when it comes time to shop for the perfect ring, especially with the numerous options that are available. Shop for your wedding bands together during the same trip to the jewelers to as well. This way you can find your perfect matches all at once. Making it a team effort can help to cut down on time spent shopping, and remove one step from the wedding planning process before your even engaged!
Unique Materials & Stones
Don't be afraid to go bold! Many couples are vouching for different colored stones that stray away from the traditional diamond. Or, if they choose diamonds, they go for a unique cut like the pear shaped diamond, or cushion setting. This gives an added boldness to a more traditional style, with some even incorporating rose gold, copper, or white gold metals for an added pop of color. If you prefer a less polished look, some brides are styling rough cut stones, crystals, and gemstones in an unpolished band for a natural and unrefined look. Some prefer more vintage and traditional inspired rings, but gravitate to options that have a vintage aesthetic with modern styling.
Once you find the perfect engagement ring and your desired style, apply the same styling to yours and your partner's wedding bands. This creates a modern, trendy, stacking match. Online jewelers like Blue Nile offer a plethora of wedding band options that can fit almost any style and pair perfectly with any unique engagement ring choice. So, prior to purchase, do some research, make some vision boards, and talk openly with your partner about the styles that most appeal to you. This will help to find the perfect fit that symbolizes the meaning behind your special day.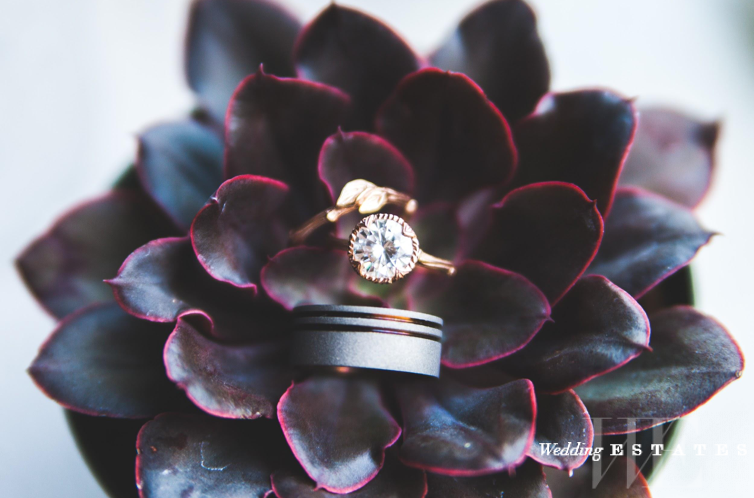 Mixing Styles
Mixing up styles with your partner when it comes to your wedding bands can be a fun and unique way to express your individual styles. New trendy materials and stones are making a statement amongst young couples, and adds a personal touch to wedding bands that also allows both partners to have the freedom to pick what best reflects their personality and what they feel best represents their relationship. You can also have your rings have a hint of metal, material or stone that each partner picked for their own ring, to have a touch of each other's style in both bands. These options may be more expensive, so be sure to discuss any budget restrictions and pricing with your jeweler prior to picking out your differing rings.
Check out these helpful tips to help make sure your asking all the right questions when it comes time to find the perfect jeweler to help you through this overwhelming but exciting step!