Naked wedding cake designed by Daryl Manese for Happily Ever After Confectionery. Photo by David Salpeter of Image Locations.
Aside from being delicious on the inside, a great wedding cake is an extension of the wedding decor, the bride or the couple.  This year, the latest trend to "take the cake" is baked in the buff. The naked cake is a cake which either doesn't have an outer layer of frosting or fondant, or is lightly frosted with the layers of the cake exposed. The idea is that the interior of the cake is seamless with the overall design.  In a recent editorial wedding shoot at our Sky Studio location, Daryl, co-founder of  Happily Ever After Confectionery, created a custom naked cake. Happily Ever After Confectionery is a Los Angeles based dessert catering company specializing in personalized detail and quality ingredients.
(Following naked wedding cakes have not been baked by Daryl Manese)
Happily Ever After is on the confectionery cutting-edge, having  been featured in Food Network's On the Road series. I stole a few moments from Daryl to speak about his approach to this naked wedding cake for the shoot. According to the photographer on the shoot, Isaac James, the idea was to highlight the contrast of minimalism and open space with the warm light in our Sky Studio. The look was simple, high glamour with a dash of vintage.
Daryl's idea was to have glimpses of the vanilla bean layers poke through a coconut cream frosting. Eucalyptus leaves, ranunculus and dahlias add sweet sophistication and a natural, unfussy glamour.
As beautiful as Daryl's design turned out, we know this is one cake trend that won't be covering up anytime soon.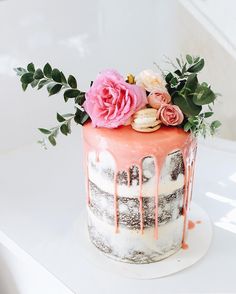 by Christine Terrisse