Have you been dreaming of a beach wedding? Our Sandcastle Estate is the answer to your dreams. This gorgeous beach location is exclusively available through Wedding Estates. Perfectly tucked away in Malibu, the house sits on a private beach. In fact, this makes it the ideal place for a proposal, wedding reception, photoshoot, and so much more. The Sandcastle Estate exudes beauty, luxury, privacy, and romance. Take a closer look, watch this video….
The Sandcastle Estate
Isn't that just breathtaking? Just imagine, shooting your wedding photos here, or even hosting a small private reception here. Besides, in the evening when the sun is setting over the ocean and the sky starts to change colors you will fall in love all over again. Not to mention, there are romantic hanging lights throughout the patio area that provide light for dancing into the night.
Every room, every inch of this estate was creatively planned; from the lighthouse-like roof, the rustic and woodsy interior décor, to the built-ins and furniture. The expansive open glass windows stand as transparent walls that step right out to the custom wooden deck that wraps around the beach view-side of the house. So you know that every shot will have an incredible view of the coastline. It's also built right next to an old superlative tree that provides shading to the main grounds, and the doors other little details are just to-die-for.
Perfect for wedding and engagement photoshoots for beach lovers, providing  sunny backdrops, custom woodwork and intrinsic pieces that will surely give your photos a burst of nature and exemplary views of the ocean.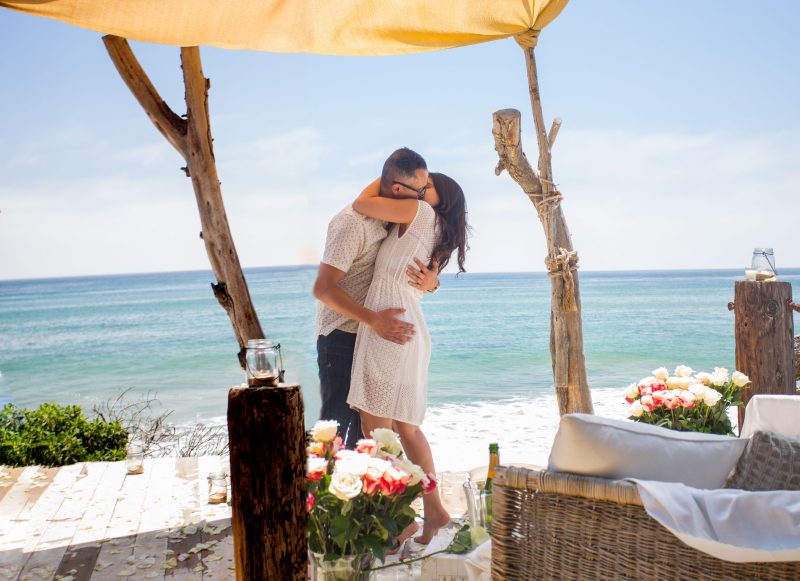 Would you like to see some more photos of past couples that have taken their photos here? Click here to see more photos. Also, this estate is available for wedding events as well as photoshoots. Don't wait, book this estate today!