We all do our hair every day, and that is why we are highly qualified to DIY your own wedding hairstyle. If you practice, you'll get technical skills, and you will find that perfect hairstyle. After all, you know yourself best, and you are very likely to find what suits you and your face best. Here are some of the most beautiful wedding hairstyles that you can do yourself.
Sleek Updo Bun
In order to create a great updo, sleek bun, you need to start with a ponytail. The placement of the ponytail will be where your bun is going to end up sitting, so be mindful to place it accordingly and think about the placement of the veil before you do.
Secure the ponytail with an elastic band, and then braid the hair. Secure the braid with small elastic. Make sure that it matches your hair color, so it remains seamless and elegant. Once the braid is braided, you should grab it by the end and wrap in a rotary motion around the base of your ponytail. Secure the braid with bobby pinks and add some texturizing spray that is going to keep flyaways at bay.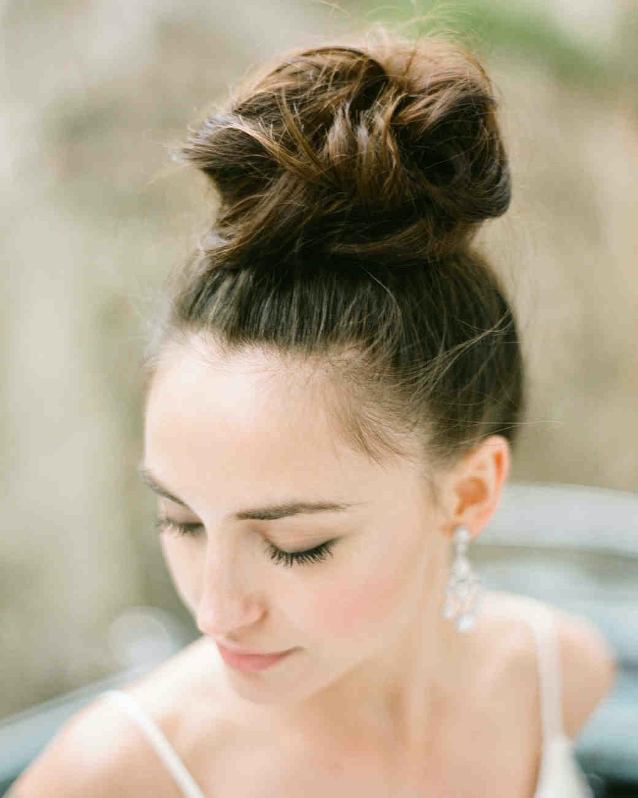 Glamorous, Side-Swept Curls
To create an elegant and timeless side-swept bridal look, you should start by parting your hair to one side. Then, grab your favorite curling iron and curl it in uniform sections. Once all of the curls are curled and cooled down, spray each curl with a medium- to strong-hold hairspray. This hairstyle should last you for a whole day of entertaining quests and having fun, and you need the hairspray to keep them in place.
You should use a wide-tooth comb or a soft-bristled brush to Brush through the curls. Once you brush the curls out, they are going to take on a smooth, uniform shape. Tuck one side behind your ear and secure with some kind of a hair accessory that works with your whole attire.