With all the gadgets we use in our everyday lives, inspired by the high-tech wedding thrown for the winners of The Knot's Dream Wedding competition, in collaboration with media & entertainment company, Mashable, we've decided to incorporate modern technology into weddings. Using these devices will turn up the notch on your wedding, so that you and your guests have an extraordinary celebration.
Livestream: have someone Periscope the whole wedding from start to finish so that those who couldn't make it can still feel as if they were there, watching every moment unfold as it happens, no matter where they are.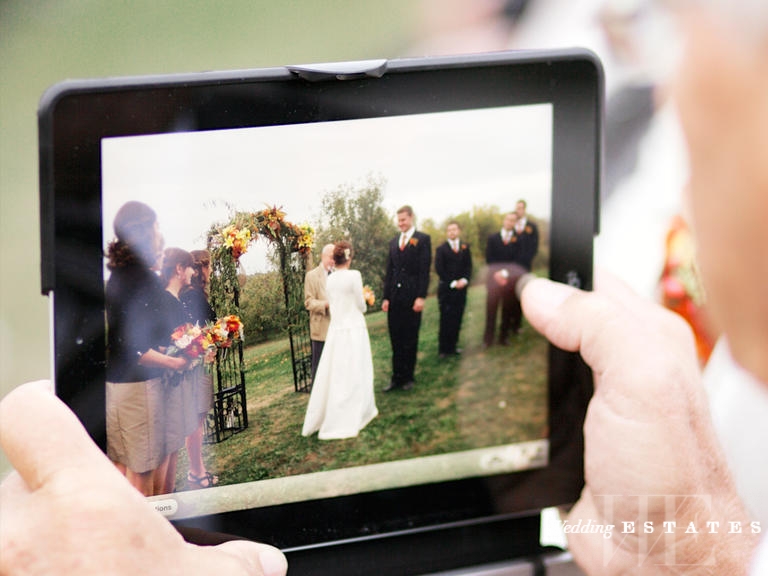 Hidden Cameras: while your videographer is able to capture an amazing reel of your wedding at the ceremony and reception, there are certain points of view they miss, that can be captured by simply slipping a camera into some nooks. There is nothing like the moment of walking down the aisle to say "i do" and while it may seem to take forever to get to the altar, it really is only a matter of seconds, that go by quickly in the grand scheme of thins. By placing a camera in the front of your bouquet, record your walk to your loved one and experience this moment all over again. Another amazing perspective to capture is that of the wedding officiant. Place a camera on their shirt pocket so that you can look at yours and your significant other's faces, with your closest friends and family watching this special moment unfold as you say "i do."
Overhead Drone: This gadget may seem a little far out and might not be for everyone, but capturing your wedding via drone, provides an amazing bird's eye view at you and your loved one exchanging vows, the guests dancing at the reception, and all the other moments in-between.
Selfie Sticks: We see selfie-sticks almost everywhere we go so why not at a wedding? Place a selfie-stick at each table for the reception, and let your guests enjoy snapping away selfies with each other.
GIF Photobooths: you may have thought you've seen it all at weddings with photobooths, videobooths, and flipbooks, but the latest in photo-fun stations are GIF photobooths. These booths will take quick burst of photos and string them together for guests to upload instantly onto social media.
Smartphone charging stations: with all the pictures being taken, snapchats going out, and pictures being uploaded on Instagram, people's will phones will be running low before all the festivities are over. Solve this problem by adding 1 or 2 phone charging stations at the reception with Android and iPhone cords.
3D printing: get a 3-D cake topper of you and your loved one dancing or maybe a printed flower instead of a real one so you don't have to worry about keeping the flower fresh the whole night, or a symbol that represents you as a couple, your options are endless. No matter what you choose, this will save you time, get rid of one more worry about having a baker or florist perfect what you want, and provide a modern touch.
Heart monitor: Yes you read it right, heart monitors; It's probably not what you're thinking though. By wearing your FitBit or Apple Watch, you can monitor your heart beat from the walk down the aisle, to the moment you say "i do," to your first dance. Afterwards, look back at how your heart spiked during those special moments and take the image to an artist who will compile a sketch of your heartbeat timeline to hang in your home.
Light projecting cake: Projecting a small light show of photos, song lyrics, or an intricate design, onto a bare cake makes for an elaborate touch that will leave your friends and family in awe.
Robot bartender: This gadget will definitely speed up the fun at your wedding by getting rid of the time spent in line waiting for a drink. Alcohol is pre-loaded onto the machine and mixed upon order, through a digital menu on your phone.