Wondering if you could include your dog in your wedding? Yes! That could be a great idea and a way of showing how much you love and value your dog. Let your furry baby escort you down to the altar and standby while you say "I do".
Dogs are lovely human friends and including them as a special guest on your big day could be lovely. The presence of your fur baby can make your wedding day a more personalized and memorable. Thinking about how to include your furry baby in your wedding events?
Your dogs can get involved in your wedding events from taking the engagement photos, save the dates, and even the wedding day events.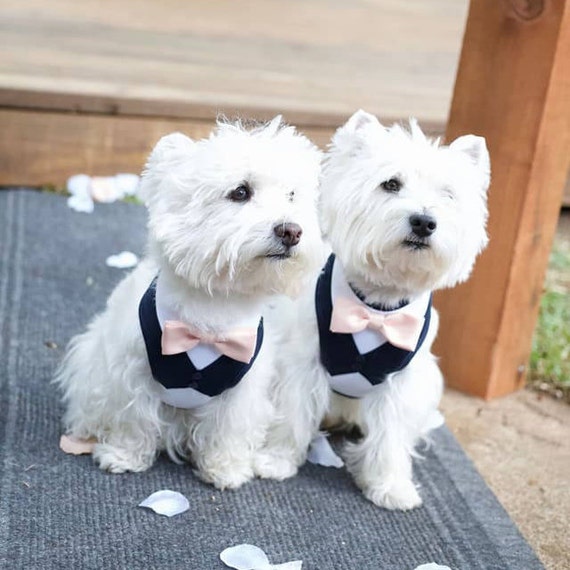 How To Include Your Dog In Your Wedding
Your furry baby can help you tell your friends and families that you are getting married by wearing a card with the writing "my mama is getting married" or "my human friends are in love". To tell your guests about your wedding date, your dog can wear a save the date card and then take some photos with him.
You don't have to keep your dog at home on your happiest day. You can make the dog your ring bearer. Make sure that your dog is dressed for the occasion with a lovely bow tie tied around his collar in your wedding color. Then attach the ring to the dog using a perfect dog harness. It will be fun to have a dog at your wedding and your guests will be overwhelmed with awwws.
Secondly, you can have your dog carry a collar of flowers and walk along with the flower girls. The sight will be thrilling seeing a beautiful small dog sharing in his human's joy. Or, if you just want your dog close to you, you can have him walk right before you while you walk down the altar and stand by while you say "I do". You can let your dog wear an "I do too" card to show you both are doing this together. Isn't that amazing? Yes, I think.
How to handle your dog for the wedding
Don't get worried about your dog ruining your day by trying to run through the cake, run around your guests or cause any form of commotion. There are great ways to prevent these so that both you and your fur baby can enjoy your big day.
Let a professional dog handler such as "perfect for you" help you out. Book an appointment with a professional dog handler before the wedding day. He/she can help you take your dog to the wedding venue, help position him for the photos, help him perform his role at the event and then take him back home after the events. You've got nothing to worry about.
Dos and don'ts of a dog in the wedding
Dos
Give the necessary information about your furry baby to the dog handler like how to manage his temperament.
Be sure your wedding venue allows dog before you include your furry baby on your guest list.
Don'ts
Don't forget to come along with the treats to entice and calm your furry friend.
Don't allow your dog to stay too long at the wedding events. Let the handler take him back home once he is through with his role and you've taken pictures with him