It's always fashion week somewhere around the world. Or, at least that's how it seems. And this week, it's the big one: New York Fashion Week. #NYFW shows the Spring 2016 collections in all their glory, and it's shaping up to be delightfully feminine across the board. Which makes it easy to co-opt the ideas we see on the runway for your wedding.
We've pulled together some sweet straight-from-the-runway style from the early part of the week to serve as Spring 2016 wedding inspiration. And as always, we've included an unexpected angle or two.
Luxe and Lace at Givenchy
For the first time, the historic French label Givenchy lead by enigmatic designer Riccardo Tisci showed it's Spring 2016 creations in New York as opposed to Paris. His show scheduled on Friday, September 11th, Tisci worked to create a runway experience both tasteful and emotionally impactful.
The set was dramatic and moving: Pier 26 in Tribeca with One World Trade Center in full view.
From Julia Roberts to Courtney Love, Nicki Minaj to both Liv and Steven Tyler and of course, Kim & Kanye–they all came out to witness this first from Tisci & Givenchy. The overall feeling of the show itself was lush minimalism. The white and black theme focused attention on lace detailing, bias cut, soft silk textures. Easy, movable yet royalty-rich. Tisci's runway will have you rethinking a traditional wedding dress.
A quick glance at the guests reveals that the tuxedo suit will never go out of style. On actress Margot Robbie (The Wolf of Wall Street), the tuxedo suit becomes soft, romantic, sexy and incredibly modern. A peep-toe wedge balances the sharp lines of the jacket for an overall effect that's more pretty bride than power broker. Actress Nicola Peltz (Transformers, Bates Motel) was a vision in a whimsical and romantic body-hugging lace cocktail dress. This style is perfect fora breezy beachside wedding.
| | |
| --- | --- |
| Actress Margot Robbie | Photo credit: Michael Loccisano/Getty Images | Nicola Peltz | Photo: Michael Loccisano, Getty Images via vogue.com | |
And here are two looks from the runway that would be fresh down the aisle:
| | | |
| --- | --- | --- |
| Givenchy Spring 2016 | Photo: Imaxtree via fashionista.com | | |
Boho Hair and Glam Make-up at Diane von Furstenberg
Pat McGrath and Orlando Pita, the ubiquitous glam squad of the runway, turned to the designer in the '70s for inspiration. With a wild mane of curly hair and smoldering, sexy makeup, Diane was all exalted glamor. McGrath and Pita softened up her iconic look and modernized it. The result: wild sophistication perfectly on point for a romantic outdoor wedding.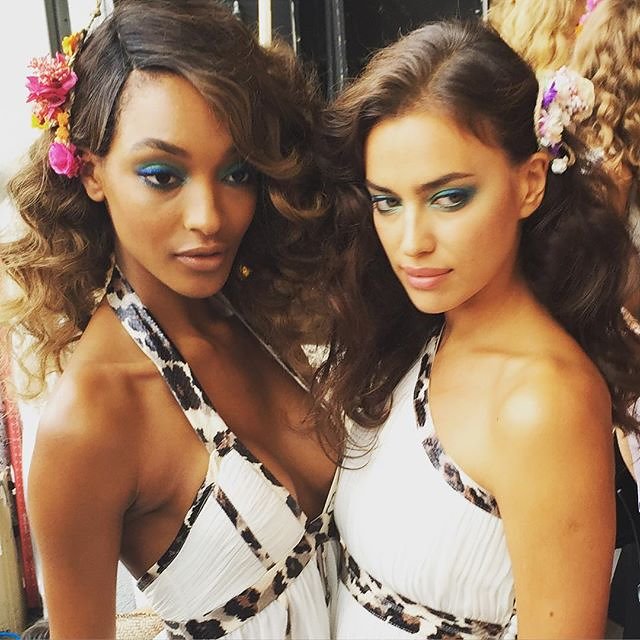 | | |
| --- | --- |
| Kendall Jenner at Diane von Furstenberg. Photo: @patmcgrathreal, Instagram | Photo: Model Gigi Hadid at Diane von Furstenberg via @joliegazette. |
But Diane von Furstenberg wasn't the only catwalk to offer beauty inspo. Over at Altuzarra, Odile Gilbert created a "folk romantic" look with hair. A smooth center part, hair half up and half down secured lightly in the back. Meanwhile, at Public School inspiration came from the sultry eighties songstress Sade. "Tough, yet light and carefree" is how the stylist described the twisted pony which we think would look captivating as a bride; either as is or with some flowers carefully tucked in.
| | |
| --- | --- |
| Odile Gilbert's "folk romantic" hair on the Altuzarra runway. Photo: Sonny Vandervelde @ Indigitalimages.com | |
On the Carolina Herrera Spring 2016  runway-romance ruled. There was something raw and unhinged contrasting with the lacey, silken and structured gowns. Check out these wild, cascading, berry-colored bouquets! It's a vibe that can easily transition into from summer to fall. Because as we all know…romance is for every season.