Rose gold is becoming an increasingly popular color choice for weddings and it's easy to see why. Combining the elegance and the glamour of gold with a delicate pink tone, rose gold is unquestionably romantic. If you're planning a rose gold wedding theme, let's take a look at how you might incorporate it into your special day with some rose gold wedding decor and other ideas.
For Bride and Groom
While you might decide against wearing a rose gold gown, it's a great color for your bridesmaids and to use for accents such as jewelry and menswear accessories.
With a touch of sparkle, these bridesmaid dresses ooze elegance. While each bridesmaid wears a different style, they co-ordinate with the same fabric.
This shade of pink tie and buttonhole would coordinate with a navy, black or grey suit and stay in keeping with a rose gold theme.
When it comes to the bride, consider introducing rose gold accents to your jewelry, from bracelets to hair vines.
Color the ceremony gold
It's time to get married! From your invitations to the ceremony, you can begin to introduce your color scheme.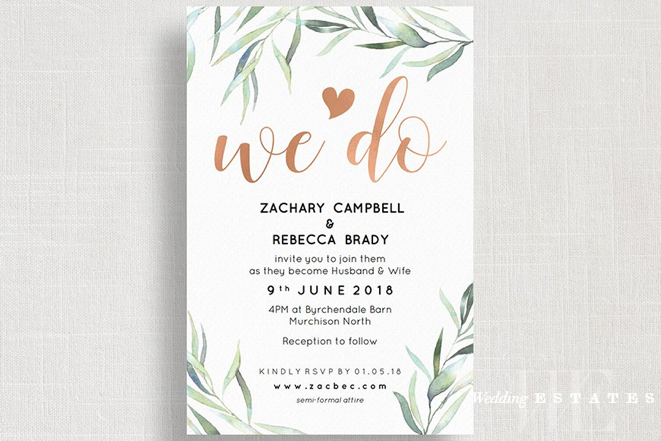 Sometimes it isn't easy to find what you're looking for in rose gold.
Find the perfect shade in the fabric that you can use to adorn tables.
All About Flowers
While you won't find flowers in rose gold, you will find beautiful shades of pink that highlight the color scheme perfectly, and you can always add ribbon to accentuate the shade.
The natural style of this blush-colored bouquet is the perfect complement to a glamorous white gown.
Dahlias, roses, foliage, and painted eucalyptus leaves create a magnificent bouquet.
We love this simple rose stems in rose gold painted vases, like these below.
Décor and Details
Moving through to your reception, incorporate your color into your table décor. Remember: do not overdo it. A small hint of rose gold will do the job.
This 'love' balloon adds fun and color to a country-style setting.
Gold frames on a pink background make an elegant seating plan.