Fellas, Valentines Day is approaching and no pressure or anything but this is only the biggest holiday for any girl! This is your chance to really show her how romantic you are. Let's face it, we're not all hopeless romantics but, with the help of one you can pull off an incredible Valentines Day! So, let us help you get into that romantic state of mind. First tip, take these tips. When you're shopping for Valentines Day gifts for her there are 5 ways to go about it.
Valentines Day Gifts
#1 A Gift From The Heart
This is the gift of service. When I say service I mean serve her. If your wife, girlfriend, or partner is always cooking, cleaning, running errands, and making sure everything is up kept this is a chance to do things for her. For a Valentines Day gift you can cook for her and clean up after, put the kids to bed, do everything to give her a night off. Not only is this gift greatly appreciated, but it also lets her know that you're there for her and it can be reassuring.
#2 A Gift From The Wallet
This is the gift of gifts. Which literally means, you buy her things. Also, gifts are  for lovers of all ages and types. Valentines Day gifts are so nice to receive. In fact, red roses, chocolates, and even teddy bears can make a girls heart skip a beat.
When picking out gifts remember these tips;
If you're in a new relationship, don't go crazy with love poetry; you could scare her away. White or pink roses might be a better option than red, as red is the color of love and it may be too soon. Also, a nice dinner is always a good option.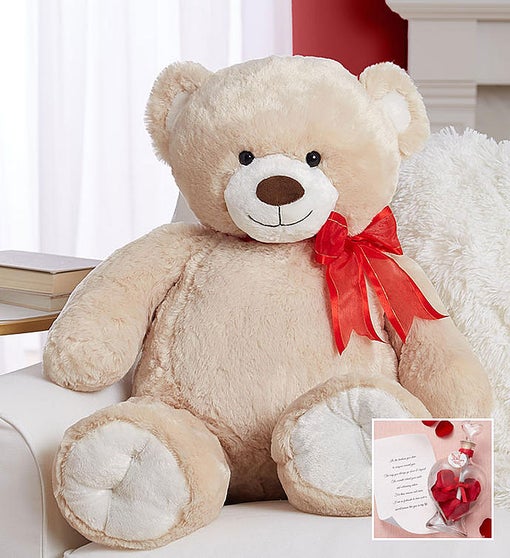 #3 Quality Time
What's better than spending time with your lover doing something you both like? It doesn't have to be expensive, you could go for a walk in your neighborhood or drive to the beach and walk along the sand. Take the time to talk about things that have been on your heart, see how your lover has been feeling and take time to listen. Often times, this can be better than any gift.
#4 Surprise Proposal
If you're feeling really spontaneous and you've been wanting to pop question but you haven't found the right time, this could be your chance! In fact, there's still a few weeks before Valentines Day so you have time to ring shop. Once you've grabbed the ring, book an elegant location to propose at! If this is your plan, check out our tips for the perfect Valentines Day proposal.
#5 Share it with loved ones
On the other hand, your lover may want to spread the love and spend time with family and friends. After all, Valentines Day is for the people you love. Take the time to do a few things they like as well as yourself.
Whichever you decide to do, make the day about them. Let them choose the events, places, etc. Sometimes it's nice to just go with the flow!