It's funny, with all the effort that goes into the wedding itself–it's the party that takes all of your attention! Your wedding reception is most likely the biggest, most elaborate party you will ever throw. Chances are, she's already well along in planning, and has read magazines, pinned about 50 things on Pinterest, and has a whole crew helping her plan. Trusts us, she's going to have her share of wedding reception tips for everyone after all of this research.
It's 2020, and many are realizing the importance of having grooms more involved with the planning. After all, this is your party too. A few simple words of advice may help you remember the importance of your role in this special day–specifically the things that you will want to be a part of!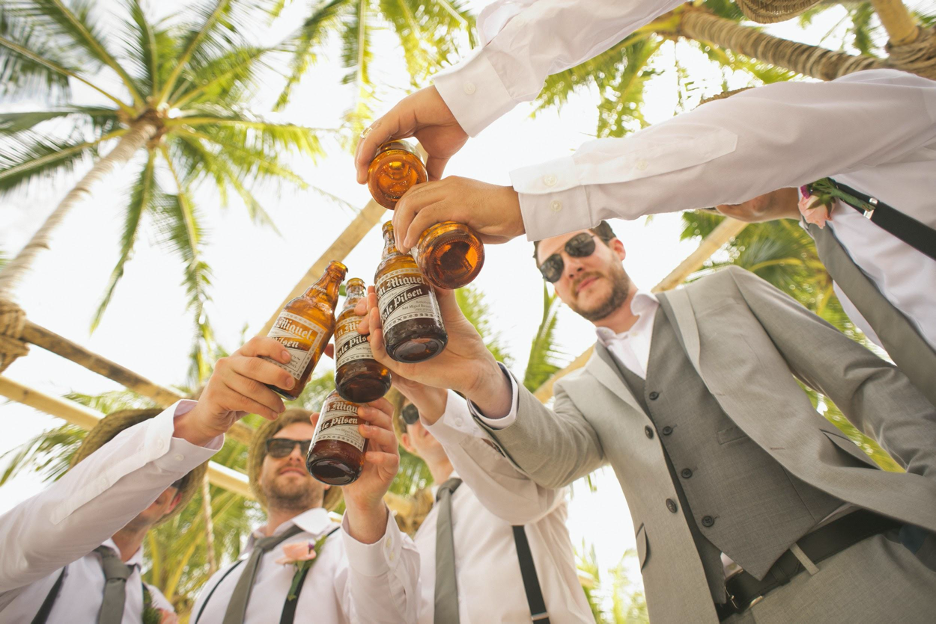 Src img (Photo by Kats Weil on Unsplash)
Choose Your Wedding Party
This may seem like a no-brainer, but make sure you choose your own guys. A lot of men fall into the trap of allowing their wedding party to be chosen by parents, other family members, and people they're trying to make happy!
On the day of your wedding, you will want to know that your party was your decision! Your own imprint on this wedding in the form of the guys that you care for the most is important.
It's a good idea to make sure that you're not just asking people on the fly to join your wedding.  Making a real list, sticking to it and then doing a real formal "invite" is the best way to do it!

If you want to take it a level further, send out invite gifts to your best men and groomsmen. Here you can find all types of invites from etsy.com.
It's also important to remember that if any of the guys need a "talk" on wedding behavior, make sure you're the one to have that talk with them. While the reception is a party, it's not exactly weekend-in-Vegas with the guys.
Care About Your Vendors
Many grooms get lost in the fray and end up saying they "don't care" about things which will eventually be important to them.
Remember that vendors might require some negotiation. Start early so that you don't get stuck with overpriced vendors, and don't skip meetings with them! While your wife-to-be may be overzealous at the beginning, she will need you to be an essential part of these meetings!
In addition, it's a great idea to divide up the responsibilities with vendors. Find what you care about most–maybe she does the flowers and you do the music?
You'd be surprised at how helpful it is to make a formal list of your responsibilities and hers, so she doesn't get lost in the details that you should handle.

If you choose not to divide them up, do make the decisions together and early, so that you don't end up with stressful last-minute decisions.
Don't Forget Gifts for Your Groomsmen
You will soon realize the commitment of time (and sometimes money) that your best guys will be putting into your wedding.
Depending on how large your wedding is–you may need the guys to usher, to help pick up parents from airports, to do any one of a myriad of things for you. And you may or may not even be around when it happens!!
You can thank them with thoughtful gifts of any budget. You may also want to get something nicer for the best man–but it's still cool to have gifts for all of the guys, and it is definitely the groom's job to get that done.
There are a few sites specializing in groomsmen gifts. For example, you can find sport gifts from groomsmengiftsource.com, or more elaborate best man gifts from something like baskets from mancrates.com.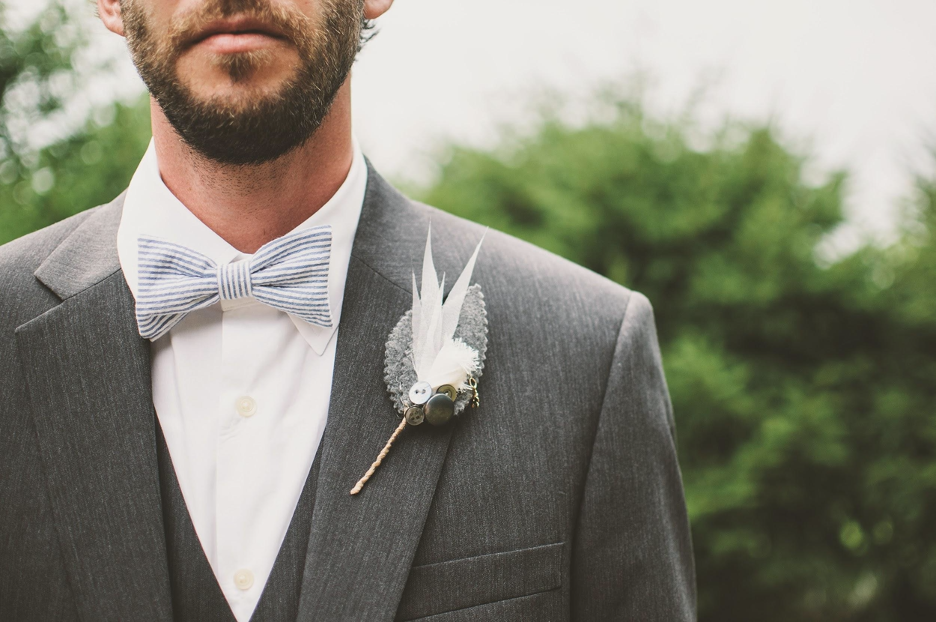 Src img (Photo by Scott Webb on Unsplash)
Your Fashion is Important Too
I know the focus is on how great she's going to look–and yes, most of the budget will go toward her bigger-than-life dress. But you need to look good too!
Make sure that you allocate enough budget to get a suit that makes you feel like a total stud.
᧐ Match your socks! Don't get caught in an awesome suit and a pair of white socks on your wedding day, just don't.
᧐ Pay attention to your own grooming. You'll never have this many pictures taken of you again.
᧐ Check on your groomsmen and make sure their suits and accessories are up to par. I'm sure they're fashion conscious….but….better to be sure!
This article from theknot.com is very thorough on the world of suits. Choosing them, budgeting them, and finding the right cut for you!
At the end of the day, the most important thing is to be present (in all ways) for your wedding and the planning of your big day.
A wedding is more than showing up on time and not drinking too much. It's a chance to really cooperate as a couple, be there for your future wife, and feel like you are an important part of your own wedding.