Main Image from: Vogue
If you are having a small, intimate wedding with only your closes friends and family present, you will not need a huge cake with several tiers. A small wedding cake will be perfectly sufficient, budget-friendly and there will be no waste, which is perfect. 
Having a small wedding cake does not have to mean having a boring or non-spectacular cake. To get you inspired, we have prepared an amazing list of small wedding cakes with a big style.
Small Wedding Cake with Cascading Flowers
There is something so magical about a cake that is pretty classic and basic in color, but decorated with cascading flower petals that look like they are floating in the fresh, summer breeze. Such decoration would get pretty lost on a big, three-tier cake, but it fits perfectly with a smaller cake. And a big plus is that you can customize the flower petals, which means that you can also choose a flower that is significant to you as a couple.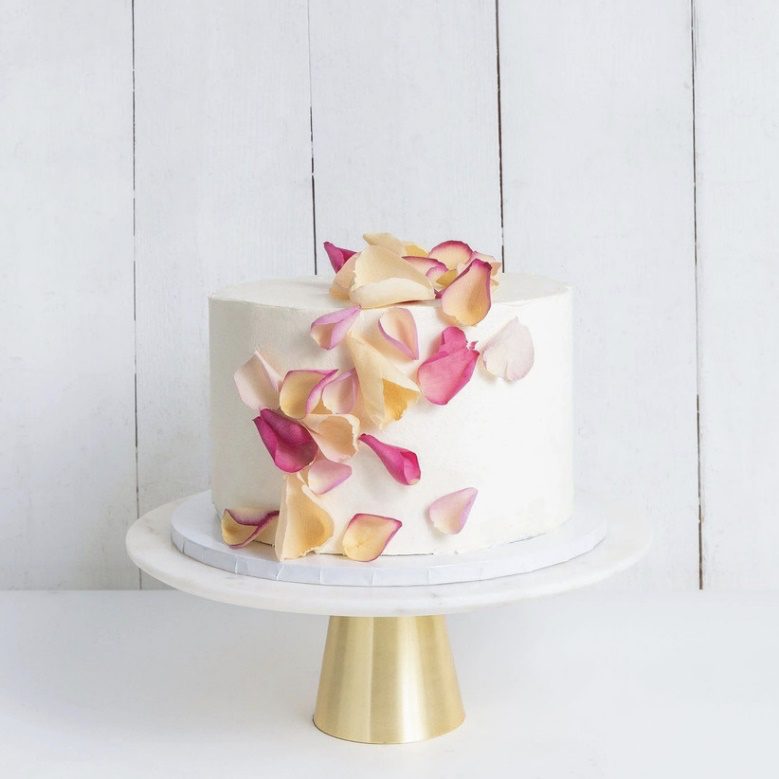 Small Drip Wedding Cake
Drip wedding cake look has been around for a while now, and it is rather popular amongst couples, for a good reason: it is very cool and elegant at the same time!
Make sure to keep the embellishment to just one section of the cake, and add some metallic and deep red details, in order to make an impact without going over the top.
Piñata Wedding Cake
A cake filled with candy is a fun thing to incorporate into your wedding, and a small cake is perfect for that. This cake is fun and playful, and we can guarantee that guests will love the extra candy!