Are you a bride-to-be that happens to wear glasses? Many brides love their glasses but when it comes to time to say 'I do' they are choosing to order contacts online ahead of the big day. If you are on the verge of making the switch but still have your concerns, we are here to help. Consider this your guide to introduce you to all the added benefits of taking this seemingly popular route, confidently helping you make an informed decision.
Why Make The Switch?
The short answer? To show off your beautiful face on your big day! Due to the fact that most lenses are made out of plastic or organic glass, they are naturally prone to glare. Odds are, you spent months, maybe even years, carefully researching and selecting the photographer who was going to capture your wedding day just as you've always imagined. Finally, your wedding day comes and goes in a blur, and the moment arrives where you are able to take a glimpse at the memories captured by photos. Only to find out that your glasses have so much glare, that your eyes are ill-defined in every photo. Not to mention, if you are planning a winter wedding, recurring fogging can cause further problems such as a headache or worse. We don't need any eye pain bothering you on what will seemingly be one of the longest days and evenings of your life. Your eyes will be illuminating brighter than ever after making the switch to contacts as well as looking more clear and healthy. Let your eyes say "I do" before you even have to.
Practice Wearing Them
Practice makes perfect as they say, and this is no exception. After you make the decision to transition to contacts, practice wearing them in the weeks leading up to your ceremony. We highly recommend that the first time you wear your new contacts not be on your big day. When you put your first pair of contact lenses in, your eyes need time to adjust, just as they do in different light settings. As mentioned by a color science expert, your eyes need on average 20 minutes to adjust fully to darkness. All things considered, giving yourself at least 2 weeks to adjust to your new contacts is ideal. In this time, make it a priority to wear them a couple of times a week. Practice putting them in multiple times until you get fluent at it with no errors. Furthermore, should any serious issues arise with your eyes reacting badly to the contacts, you will have plenty of time to resolve them beforehand.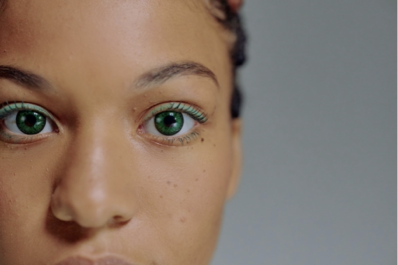 Your Style, Your Way
If there is one day that you want to make the ultimate statement with your style, it's your wedding day. From personally styling your hair and makeup, and dress, to the holistic style of your wedding as an event – table centerpieces, menu font and even stringing lights. You want everything to make a statement. When you throw your everyday glasses into the mix, it can make things difficult. Some may choose to style their eyeglasses with colorful frames, which work for them in their everyday settings. Styled with their wedding color pallet poses many obstacles to overcome which is why making the change just makes the most sense to brides.
Eliminating glasses from the picture leaves you feeling confident with any style you go with. You no longer have to style the color of your dress to your glasses and you can finally say yes to the dress you have always dreamed of without any roadblocks.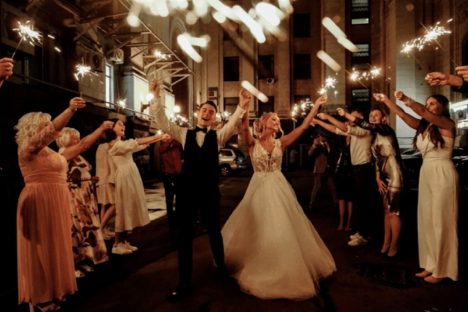 The Wedding Benefits
When it comes to your wedding, as a bride, your end goal is to enjoy the day to its fullest. This includes eliminating any inconveniences. Lugging around your glasses (and probably a spare pair in case things get too crazy on the dance floor) can be a pain. Glasses can fall off of your face at any given moment and break, leaving you visually impaired for the rest of your day. With contacts, you are more likely to spill a drink before one falls out of your eye, it just doesn't happen that easily. While we still recommend you bring an extra set, with the ease of contact lenses, you no longer need to worry. A spare set can occupy the same amount of space as some coins in your pocket. Your eyes will thank you later when you can take in all that your wedding day has to offer without any additional eye inconveniences.
Equally important, you no longer need to fret about photo flash and glare from photography if you go with this option. From the very moment, your day begins to you and your newlywed partner driving away, your day will be encapsulated with pictures. Snaps will be taken outside with beautiful scenery to a much more intimate setting with lower lighting indoors. You will have pictures taken everywhere. Wedding photographers use flash in various scenarios to ensure the best lighting. Without glasses, you and your partner can pose wherever and whenever you want, stress-free, and most importantly avoid the glare!.
Your wedding only happens once so take some time to consider all your options. While you may not wear glasses forever, they will in fact live forever in your wedding photos. Make the best choice that fits you. Remember, after all, your day will be filled with some of the best memories so go with whatever option makes you feel happiest.