When a couple as dynamic and intelligent as George Clooney and Amal Alamuddin get together, any style of wedding they could have chosen would have been exciting. An official wedding album just released by InStyle of their September 27th nuptials in Venice, Italy reveals just how personal, detailed and filled with love an affair it was. Romantic, opulent, effortless:  the new photos prove that  classic elements can take a subtle personal twist, why black tie should never go out of style, and how a few dramatic details are all that's needed when you have an incredible location.
A mixture of color and black and white, the never-before-seen stunning photos give an intimate look at the ceremony and reception.
Here are our top 5 picks from the power couple's new wedding album:
1. Taking the Time to Laugh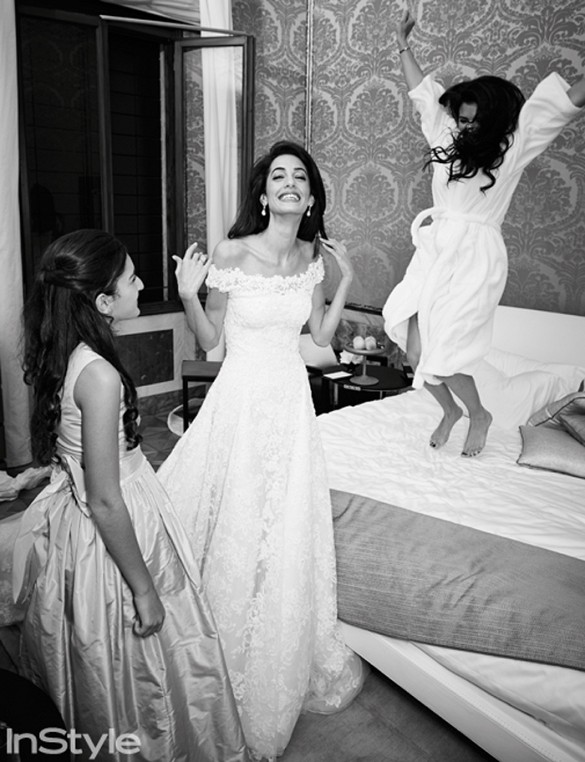 Photo: Getty Images for InStyle magazine
The dress may be couture, the surroundings may be luxurious, but there is no reason why you can't sneak in a few jumps on the bed or indulge in a hearty laugh. We love how Amal feels free to express her unbridled joy (pun intended)–as this candid shot captures a sweet pre-ceremony moment.
                                               2. That Arch and Veil                                                                                                                               

Photo: Getty Images for InStyle magazine
Amal's custom Oscar de la Renta dress is more than divine, it's a work of art–made even more special by the fact it was one of the last  creations by the late designer. The ivory beaded tulle dress with Chantilly lace applique and a hand embroidered bodice with beading and crystals, is made even more breathtaking by the cathedral length Chantilly lace-embroidered veil. Letting the arch, dress and veil take center stage, she has kept her hair and make-up look simple. George wears an Armani suit with black bowtie; a classic look that fits him like second skin.  Under the floral arch, made dramatic by it's all-white palette, the couple looks happy, relaxed and in love.
3. It's All in the Details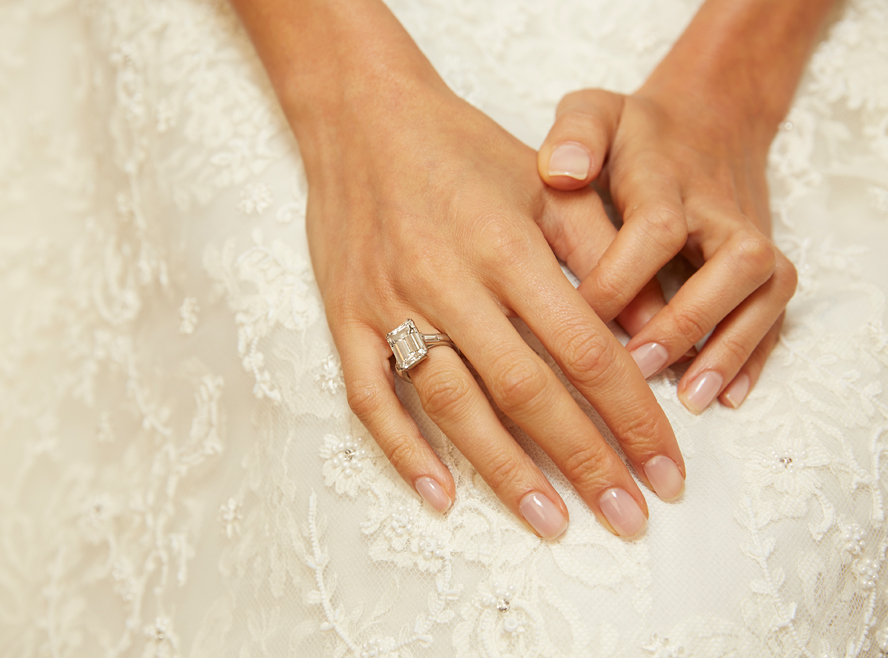 Photo: Getty Images for InStyle magazine
Gently folded, Amal's impeccably manicured hands rest on the the intricate detail of her lace dress. We can't help but notice the seven-carat (ethically sourced) cushion cut diamond ring.
4. A Moment Together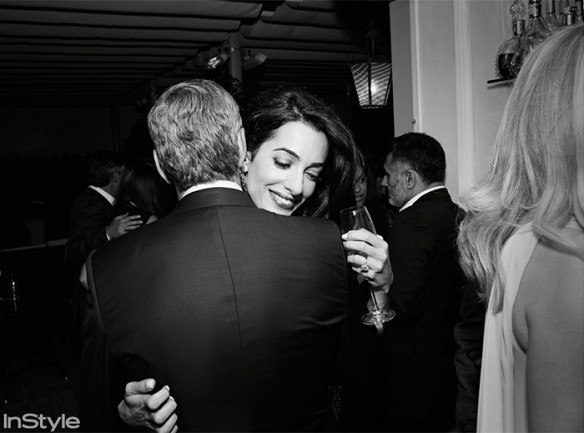 Photo: Getty Images for InStyle magazine
Sometimes, the couple is so caught up in all the rituals and activity, it can be hard to steal an intimate moment. We love that George and Amal took a quiet moment to share a simple hug has husband and wife.
                                                      5. Ready to Dance All Night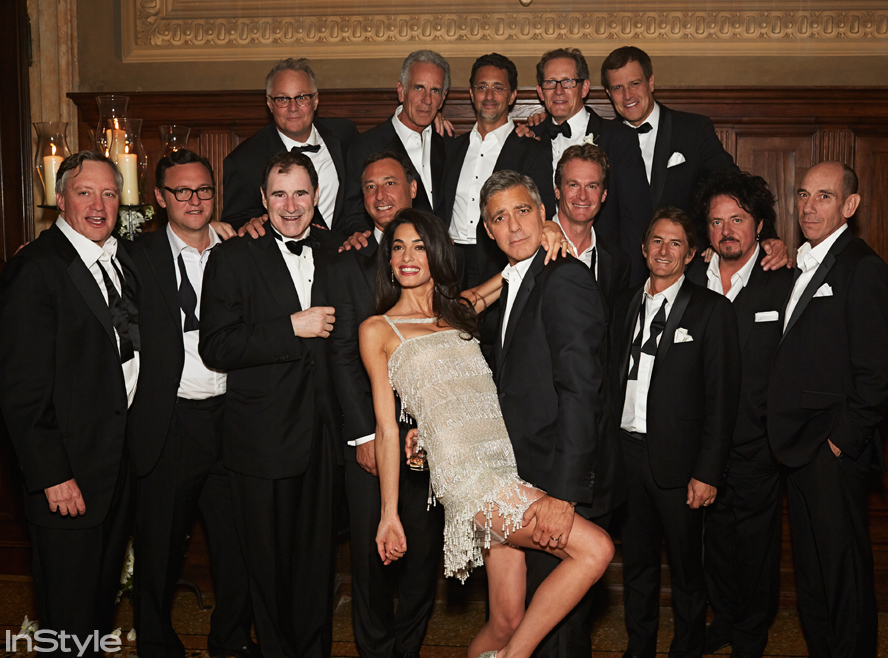 The ceremony over, Amal changed into a Gatsby-era dress, also custom designed by De la Renta. Clutched by Clooney and surrounded by his fun-loving pals, while the party got underway, the glamour remained.
As these photos reveal, a celebrity studded designer wedding can still retain a subdued elegant charm; perfectly reflecting the fun, yet refined personalities of the bride and groom. Getting it right means having an authentic, joyful celebration of love. We wish you many years of happiness George and Amal!
Wedding details courtesy of instyle.com and vogue.com
by Paulina Kuszta and Christine Terrisse