Grace Kelly was an American actress whose charmed life became a fairytale when she married Prince Rainier of the Principality of Monaco on the French Riviera.
Does it get any better?
Way before the days of Kim Kardashian and mega- celebrity weddings, Grace Kelly's nuptials to Prince Rainier was dubbed by the press as the "wedding of the century." It had all of the opulence you would expect of a royal wedding. Long before she became royalty Grace was noted for her style and no pun intended, grace. Her wedding look was a revelation. The dress she wore was a gift from MGM Studios, created by its lead costume designer, Helen Rose.
The dress took Helen and her team months to make. It was both modest and modern, demure and alluring. A fitted lace bodice, so close to the skin it was called lace de peau (skin lace) hugged her frame while a full taffeta skirt with wide sash created an elegant  silhouette. Instead of a tiara, the legendary screen beauty chose a floral juliet headpiece, with a long lace veil that clearly showed her face.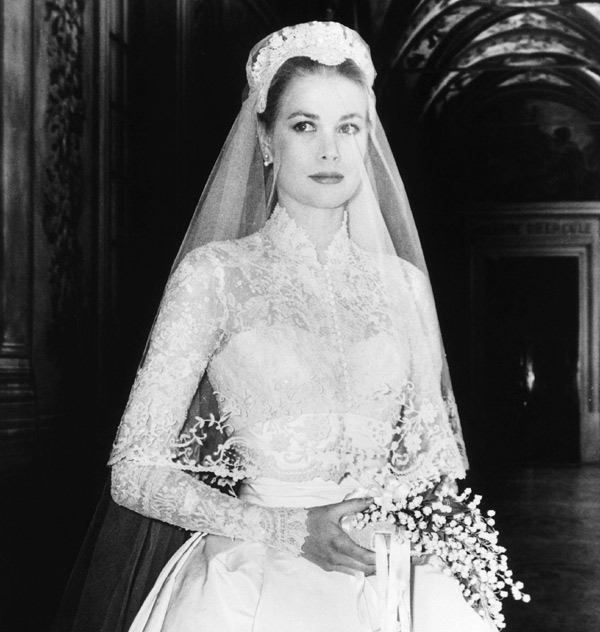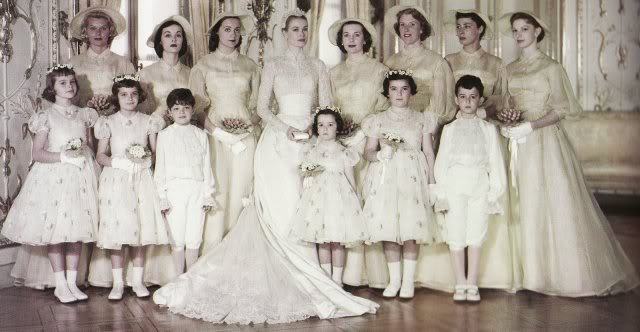 It was a look that inspired brides everywhere with its mix of tradition and fashion-forward individuality. Grace, who tragically passed away in a car accident in 1982, was an exquisite beauty who was also intelligent and ferociously talented (she won the 1954 Best Actress for 1954's The Country Girl.)
She continues to inspire brides to this day, including reportedly, Catherine, Duchess of Cambridge. When was she was preparing to marry Prince William, Catherine tapped Sarah Burton, current creative director of Alexander McQueen, to take inspiration from Princess Grace's dress. Note the similarities with the use of lace and a fitted bodice.
For all these reasons, Princess Grace is an iconic bride. And perhaps, the most iconic of all.
Watch this video for more on Grace Kelly
Sources cited:
All images sourced from My Wedding Scrapbook, Hello Magazine
by Christine Terrisse, staff writer for Wedding Estates.