Earlier this week, we highlighted some of the celebrations and changes that took place after the Supreme Court's marriage equality ruling. The ruling immediately changed the lives of same-sex couples who have been in long-term relationships but were not able to marry in their home state. One of the celebrations that caught our eye was the Twitter campaign #WeAreWhatLoveLooksLike started by Huffpost Gay Voices Executive Editor Noah Michelson and his staff.
Twitter users responded quickly to Huffpost's call to show a photo of who they love. The resulting photos illustrated a fact that the Supreme Court ruling will hopefully continue to bring to light: Same-sex couples are diverse–so are their families and the way they choose to get married. Showing the real people and real families affected by the ruling is a stunningly simple yet effective way to continue to illustrate how "they" are just like "us."
Mr. Michelson, a noted poet and a former Editor for Out magazine, took some time  with us to offer insight into the viral campaign he started, as well as his thoughts on where the gay rights movement goes from here.
WE: How long have you been the editor for HuffPost Gay Voices?
NM: I joined The Huffington Post to launch and run HPGV in September 2011.
WE: What has been the most rewarding aspect of your position?
NM: It has to be seeing the very real impact we're able to have.  Nothing compares to getting emails from people saying things like, "You've changed the way I think about transgender people" or "That piece you published yesterday really spoke to me."
WE: How did the idea for #WeAreWhatLoveLooksLike come about? Was it spur-of-the-moment after the ruling, or did you have the idea ready to go?
NM: We actually started the callout for #WeAreWhatLoveLooksLike a few days ahead of the ruling. We knew that no matter which way the Court ruled we wanted to have a strong showing from our community.
WE: What is the most surprising or touching aspect about the photos you are seeing coming through?
NM: I had no idea how many people would share their photos. I thought we'd get a fair amount of submissions but the second we put out the call, we were immediately flooded. It was incredible — and incredibly beautiful. I also loved that the photos that people shared really reflected the hashtag itself — we got so many different people of all different colors and genders and shapes and sizes and ages… I don't use the word "inspirational" often, but I think it's appropriate here.
WE: Before the Twitter campaign, would couples share their wedding stories or their fight to get married in their state with you?
NM: Definitely. We've long been sharing the personal stories of couples — and people in all kinds of relationships that don't necessarily look or behave like couples. Our stance is the more stories we share — and the more diverse and honest those stories are — the further we go in terms of changing people's minds about who we are, how we look, what we do, who we have sex with and how and who we love.
WE: In your opinion, where does the movement for equality in the LGBTQ community go from here?

NM: Marriage equality was incredibly important for us to acheive but it's hardly the end of the road. There are so many more issues — from transgender rights and acceptance to homeless LGBT youth to fundamentally changing people's minds about sex — that we need to tackle. We've only just begun and we're already ready for the next battle.
Here are some of the photos shared by Twitter and Instagram users on the #WeAreWhatLoveLooksLike campaign: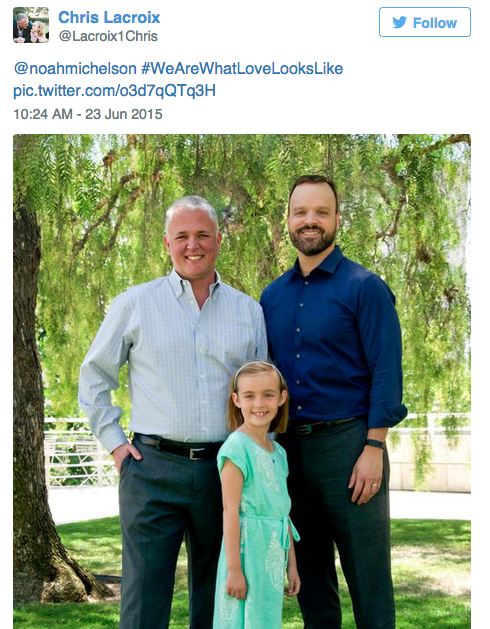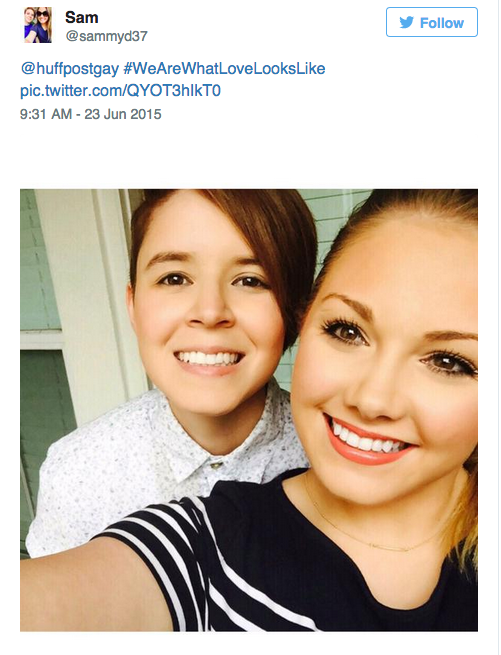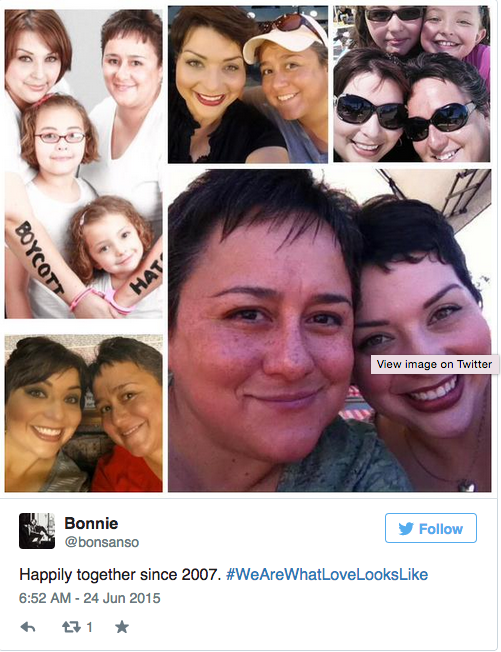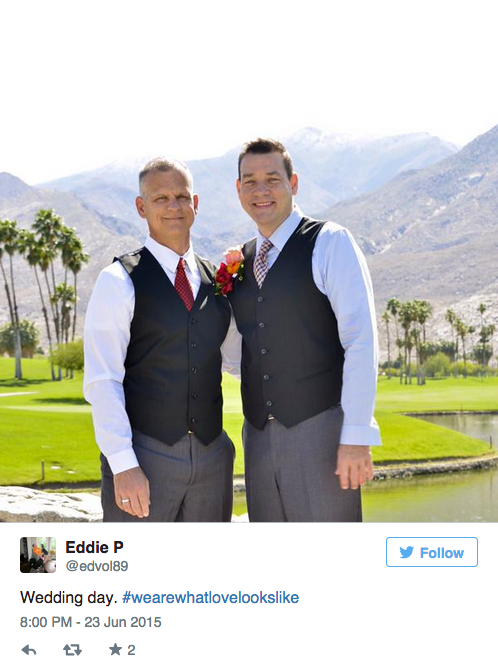 by Christine Terrisse, Staff Writer